In our quest to achieve exceptional customer satisfaction and have all our customers proud to say, "My dealer is Keeler!" we are excited to present our Keeler Rewards program. Your membership is complimentary with the purchase of any vehicle from our dealership or with any service performed in our Service Departments and designed to make your ownership experience second to none.
From future savings on your next vehicle to FREE gifts, valuable merchant and service discounts and travel rewards, we're sure you and your family will find plenty to love about our Keeler Rewards program.
Let Us Reward You!
Present your Keeler Rewards key tag or card every time you make a qualified purchase and earn 10% in points toward the purchase of your next new or pre-owned vehicle from Keeler Motor Car Company. Qualified purchases include service, parts, body shop, detailing, and accessories. Each point earned is equal to one dollar in future savings. Every point you earn is valid for five years from the date you earn it or until your account expires after seven years. It's that easy.

Save Big Off Your Next Vehicle.
When it's time for your next vehicle purchase, simply present your Keeler Rewards key tag, and we will deduct your total balance off the price of the new or pre-owned vehicle of your choice! Plus, your points are over and above any manufacturer's discount or incentive!
The Choice Is Yours.
Your earnings are fully transferable to friends and family members at any time.
Lost Key Return Service
Should you lose your keys, instructions on your Keeler Rewards key tag will assist in their safe return to you. This is just another reason to keep your key tag on your key ring at all times.
Start Earning Now!
Earn 10% At Every Visit
Present your key tag or card at every visit to earn 10% of each dollar you spend toward FREE gift certificates and future vehicle purchases!
First Swipe Bonus
Those members who purchase a vehicle at the time of their enrollment in Keeler Rewards will receive an additional $50 in Bonus Points the first time they return and swipe their membership card or key tag.
Extended Service Contract Bonus
Adding an extra care protection plan is a great way to guarantee your peace of mind and protect your investment. Keeler Rewards members who choose the added protection of any qualifying extended coverage warranty will receive an additional $100 in Bonus Points!
...and there are many more ways to earn points when you purchase your vehicle! Speak to a Sales Advisor, Sales Manager or Finance Manager for additional details!
Service Earnings Reserved For You!
Pre-Paid & Factory Provided Maintenance Bonus
Following the factory maintenance schedule of your vehicle is essential to its optimal performance, especially after the warranty ends. To thank you for maintaining your vehicle's condition, we will award you $25 in Bonus Points any time you return for Pre-Paid or Factory-Provided maintenance services at our dealership. See your service advisor for details.
Warranty Service Visit Bonus
Bring your vehicle in for any warranty service visit, and we'll award you with $10 in Bonus Points.
High Mileage Club Bonus
As your vehicle's mileage increases, we think it is important to thank those customers who continue to care for and maintain their vehicles through the years. For service visits totaling $200 or more you will earn $25 in Bonus Points if your vehicle has reached 100,000 miles, or $50 in Bonus Points if your vehicle has reached 200,000 miles.
Tire Purchase Bonus
Earn $100 in Bonus Points when you purchase and install any set of four (4) new tires. This bonus is in addition to the 10% earnings you will receive in your account.
Collision Center Bonus
Our collision center will keep your vehicle's resale value at its best. For any invoice greater than $1,000, we will award you with $100 in Bonus Points.
Earn FREE Gift Certificates!
Watch Your Mailbox...
To congratulate you for reaching certain point intervals in your account, you will earn gift certificates redeemable in our service department. When you reach these point levels in your account, you will automatically qualify to receive the certificate for the corresponding gift.
Keep your eye on your mailbox for your FREE gifts. To redeem, simply mention your gift certificate to your appointment coordinator when scheduling.
The best part is no points are subtracted from your account for redeeming your certificates. They are simply our gifts to you!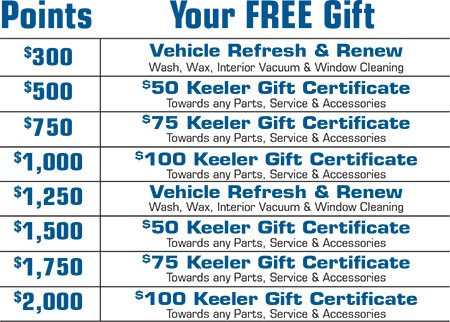 *For complete program rules, please refer to the membership handbook, available at any Keeler Motor Car Company dealership. Award certificates have no cash value and cannot be redeemed for cash. They are not transferable in any way. If they are lost or stolen they will not be replaced. All reward certificates expire within 180 days from date of issue and will be void if not redeemed. We reserve the right to cancel this program at any time without prior written notice. Prize selection is subject to change at any time.
Gifts, Contests & More!
Check Your Receipt...
Throughout the year, we plan numerous contests and promotions for our customers. It is our special way of saying thank you for swiping your Keeler Rewards key tag or card in our service department. Simply remember to swipe to qualify for our current promotion and then check out your personal message printed on your receipt. It's that easy! It pays to swipe at every visit... you just might be our next winner!
"Keep It Local" Discounts!
We believe in supporting our local communities. For this reason, we have launched our "Keep It Local" Merchant Partnerships. When you support our local businesses and present your Keeler Rewards card or key tag, you will be rewarded with exclusive everyday discounts!
From takeout and fine dining, to flowers and jewelry, our merchant partners have exclusive discounts waiting for you EACH and EVERY TIME you visit. Simply present your key tag or card at time of purchase to receive these members-only savings, while helping our local business partners.
Click here or on the image below to browse our current selection of over 45 local merchants offering discounts or other benefits to Keeler Rewards members. As the Keeler Rewards program grows, so will this list of merchants, so check back for new offers soon!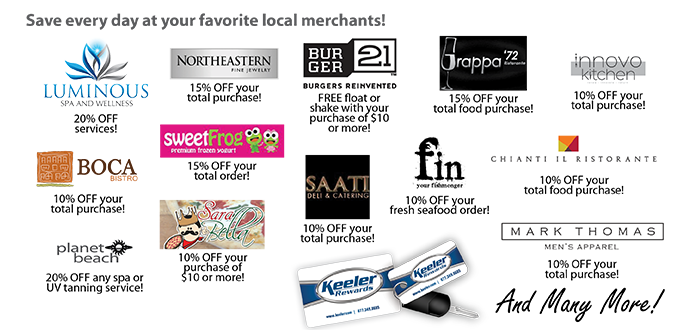 Exclusive Member Benefits
In addition to those listed above, there are many additional benefits to joining the Keeler Rewards program, including:
Free Car Wash with Service • Complimentary Shuttle Service • Complimentary Service Loaners (for major repairs) • Priority Service Scheduling • Free Multi-Point Inspections • Relaxing Customer Lounge • Exclusive Events & Promotions • Appraisal Guarantee • Keeler Motor Car Company Money Back Guarantee • Friend and Family Referral Bonus • Travel Concierge Service • Much, much more!
For additional information regarding the Keeler Rewards program, be sure to speak to your Sales Advisor or Service Advisor on your next visit!
Updated March 5, 2020