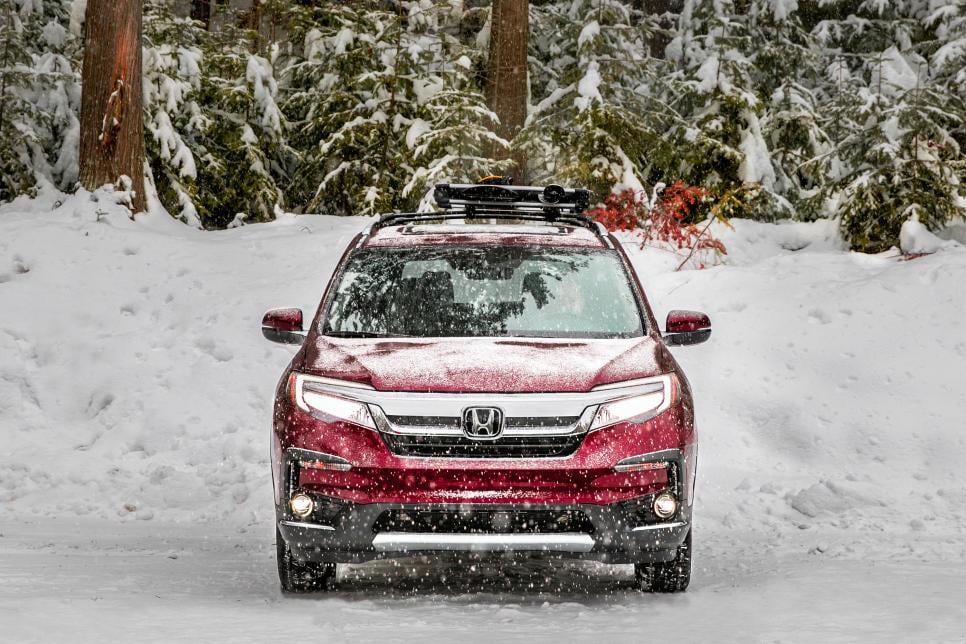 To celebrate the holiday season, we've picked out the perfect car to amplify your seasonal cheer! The new 2020 Honda Pilot comes in 6 different models, all equipped to make this winter effortless and merry! Our top vehicle pick for all those Christmas activities is the 2020 Honda Pilot Elite and here's why:
The Perfect Ride for your Christmas Tree:

The SUV body style of this Honda is perfect for tying a tree to! We can guarantee you will get your tree home safely and securely with the Honda Pilot. Not only is the roof the perfect size for a tree, but our collision mitigation braking system will ensure there are no slip ups! This high tech system is designed to alert the drivers of any possible collisions, and if the threat is immediate the system will apply the brakes.

The Best Way to Spread Christmas Cheer is Singing Loud for all to Hear!:

This car is set up for the perfect holiday sing along. Connect your phone to the Honda Pilot Elite using your Bluetooth system, while also charging up with it's wireless charger! The Elite is also compatible with Apple Car Play and Android Auto so you can use all your favorite smartphone features on the display such as maps, emails, texts, and calls!

Watching "A Christmas Story" for the 100th Time:

Let your passengers catch up on their favorite holiday movies using the Wi-Fi Hotspot feature. With the Hotspot link from Honda, you can have unlimited data in your vehicle for just $20 per month. This makes things quick and easy for online streaming!

Surviving Snow Storms:

The Honda Pilot is designed to get you through the roughest winters! High speed wipers and washers, along with a high tech heating system will ensure visibility through your wind shield during a snowfall. The Intelligent Traction Management adjusts your car to a variety of conditions and gives your car extra power and surface friction! Honda also has a universal anchoring system for all floor mats so your car won't be ruined by snow boots this season!

Outsmarting Holiday Traffic:

Holiday travel equals sitting in traffic. Luckily, with the Honda Pilot Elite, you can save on gas! The Honda Idle-Stop feature will turn of your engine when the car is stationary for more than two seconds. When you release the break, your engine will start right back up. This means in stop and go traffic, you are maximizing fuel efficiency!
This winter can be one to look forward to with the Honda Pilot Elite! With this car, you can take on any snowstorm, winter adventure or holiday get together! Learn how to use the features on your Honda via our Tech Tutor videos. Then, come see us at 1111 Troy-Schenectady Road to test drive the 2020 Honda Pilot Elite! Happy Honda Days!