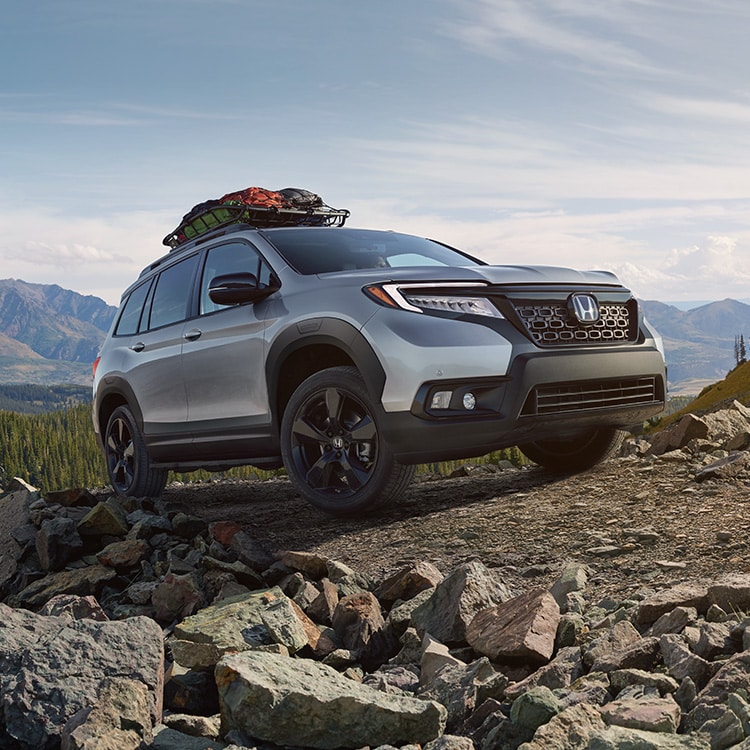 With the new release of the Honda Passport, we've seen interest explode for this five-passenger, mid-sized SUV. Geared towards people who are always on-the-go like busy families, the Passport is the perfect vehicle for those who like to take adventures and aren't afraid to take the road less traveled every once in a while. Here are five things we LOVE about the all new SUV by Honda.
Size
While the Passport shares its powertrain and platform with the Honda Pilot, the Passport is actually 6 inches shorter. Without the third-row seat that the Pilot offers, the Passport feels more agile and can maneuver into a smaller parking spaces and tighter confines!
Storage
Regardless of what stage you're at in life, storage in a car is a must these days. Whether you're driving the kids to soccer practice or you need space for your yoga supplies, it's great to have ample storage in your vehicle. With the Honda Passport, you'll have storage and then some. In fact, beneath the rear cargo floor is a large storage bin which is separated into two cubbies. That's right.... SECRET STORAGE! From muddy hiking boots to hiding presents before the holidays, this secret storage is a huge bonus.
Safety Comes Standard
When it comes to safety, Honda doesn't mess around. The Honda Passport comes with a long list of standard safety equipment, including automatic emergency braking, forward collision warning, lane keep assist, lane departure warning, a multi-angle backup camera, and more. Again, these all come standard with the Passport.
Prepared for Bumpy Roads
While the Honda Passport can't compare to true off-roading vehicles, the Passport offers several off-road drive modes to adjust to various driving conditions. The AWD system can be shifted from normal drive mode into Snow, Mud & Sand. This is great, especially for those living in the unpredictable weather conditions of upstate, NY!
Ample Space
We already mentioned the amazing storage that the Passport has to offer, but this mid-size SUV is roomy and comfortable for passengers, as well. Feel free to stretch-out whether you're in the front or second row! We don't know about you, but when it comes to summer road trips, having enough leg room for all passengers is a must. With the Honda Passport, ample space is a given!
Are you sold on the Honda Passport? Come into Keeler Honda today and see for yourself how incredible this mid-sized SUV is!