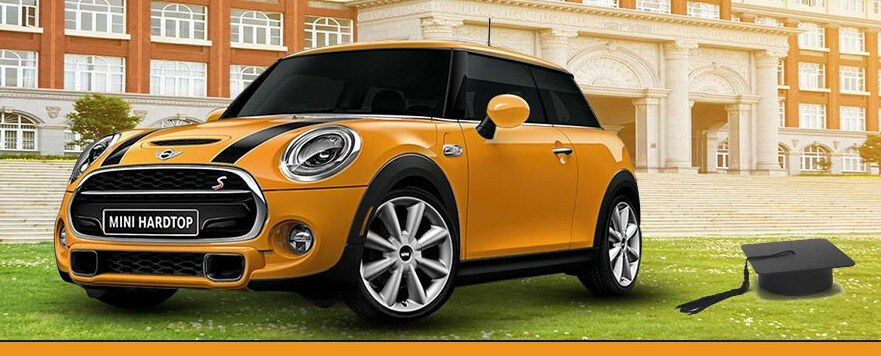 Start putting your hard-earned diploma to work today with the College Grad Program from MINI Financial Services. Navigating the real-world is fun, but doing it in a Keeler MINI is even better! At Keeler MINI, edible grads can save $500 on a new or Certified Pre-Owned MINI when they finance with MINI Financial Services.
First things first: How do you know if you are an edible grad? The program criteria includes:
· Graduation from an accredited college or university with an undergraduate, graduate or Associate's degree earned within previous 12 months OR eligibility for graduation within next 4 months with a verifiable offer of employment
A copy of the graduate's diploma or official transcript
POI or employer letter with the Human Resources representative's contact information, stating position/title, and income
At least 24 months of credit file – no previous derogatory credit on any trades.
Gross debt to income ratio of less than 45%
Gross automotive payment to income ratio of less than 25%
The MINI College Grad Program will help the newer, younger generation become MINI Motorers, and the more MINIs, THE BETTER! As a MINI college grad, you will be qualified to save $500 towards the Lease or finance of eligible MY15, MY16 or MY17 MINI. Other program details include:
Super Elite rate for all Standard Plus customers and up
Advance is based on FICO score and income
Security Deposit Waiver, unless stipulated by credit
Applicable to new vehicle contracts
Getting your degree is just the beginning. MINI Financial Services is here to make sure you start your new life at TwinPower Turbo speed. If you're a recent college grad, there's no better way to start down the road to success than with $500 off a new or Certified Pre-Owned MINI and our best available rates at Keeler MINI.
Now that you've walked across that stage, moved the tassel to the left side, it's time to graduate to the driver's seat of a MINI! For information about the MINI College Grad Program, visit the dealership at 1111 Troy-Schenectady Road and talk to one of our MINI sales associates—Ronnie, Anthony, Brendon, or Andrea.
See what saying "My Dealer is Keeler!" is all about!