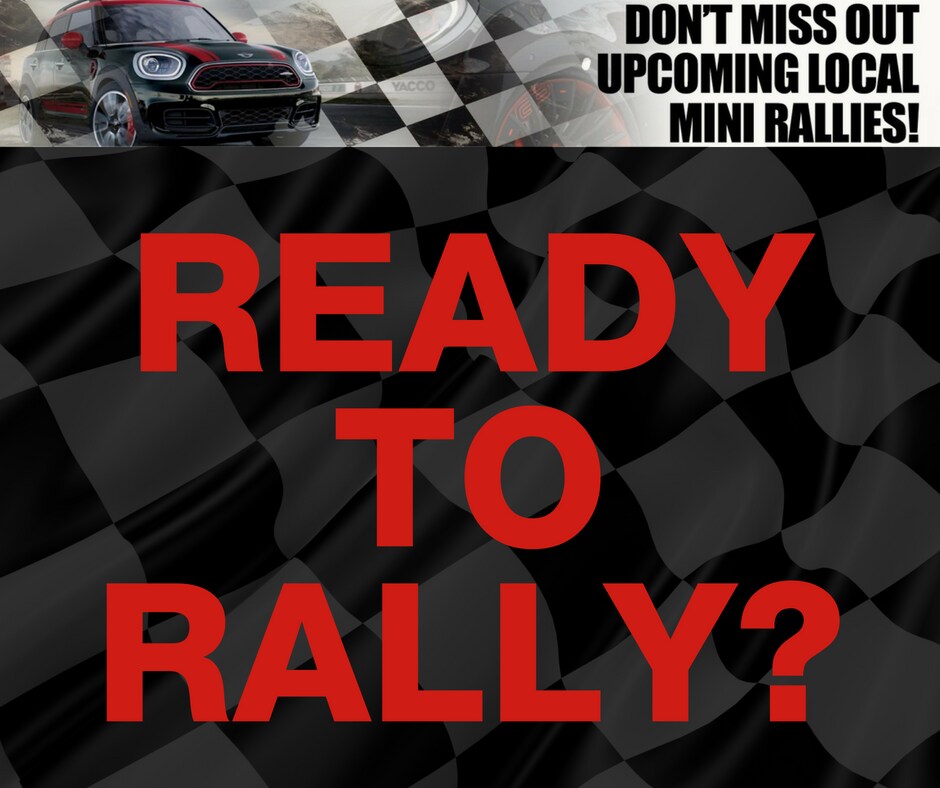 Ready to rally? MINI USA has a series of rallies quickly approaching that Keeler MINI is SO excited to be participating in! We hope you and your MINI will join us! The first kicks off this week:
MATG 2018: MINIS AT THE GLEN
What: Mohawk Valley Rally to MATG 2018
When: Friday, June 8 - Depart: 1PM Sharp to 4PM +/-
Where: TA-Truckstops of America, 40 Riverside Drive, Fultonville, NY 12072
"Rally-Up prior to 1PM on 6/8 @ the Truckstops of AMERICA. Park in front of the Building facing the Mohawk River, along Riverside Drive. We will Depart for the general MATG area BY 1:00PM EST and 'truck' westward along I-90 before turning southbound to the greater Watkins Glen Area."
The fun continues the following Friday, June 15th:
MOT 2018: MINIS ON TOP
What: MOT Albany Morning Convoy 2018 - MINIs On TOP
When: Friday, June 15 - Between 8:20AM & 8:45AM
Where: Keeler MINI - 1111 Troy Schenectady Road, Latham, NY 12110
"Meet at Keeler MINI in LATHAM, NY for Light Breakfast and Swag and Head to MINI of BEDFORD to merge with the larger Convoy to MINIs on Top in North Conway, NH!"
We'll be back at it in July as we "Rally to the West!":
MTTS 2018: MINI TAKES THE STATES 2018
What: "BACON INVASION" Rally to the West - Official Feeder Route to MTTS West - Portland, OR
When: Friday, July 6 - Friday, July 13 (BACON INVASION), Saturday, July 14 - Sunday, July 22 (MTTS 2018) & Friday, July 6 - Depart at 7:15AM Sharp
Where: TA-Truckstops of America, 40 Riverside Drive, Fultonville, NY 12072
"Canadian and American Motorists from Albany NY and Montreal, QC are merging in London, ON and rallying together through the US and Canadian Provinces toward the Pacific Ocean during their "Great Canadian Bacon Invasion - Rally to the West". This group will meet with numerous local MINI motoring enthusiast groups and MINI Dealerships in their route westward, and their journey south to Portland, OR for the official start of MTTS 2018."
Why should you consider joining us for one these rallies? Keeler MINI's, Ronnie says "It's a great way to get to know other like minded people who understand that MINI is the best brand of car to drive!"
Learn more about these MINI meet-ups here: https://bit.ly/2xGnynD We hope you'll join the Keeler MINI team for a summer of fun!