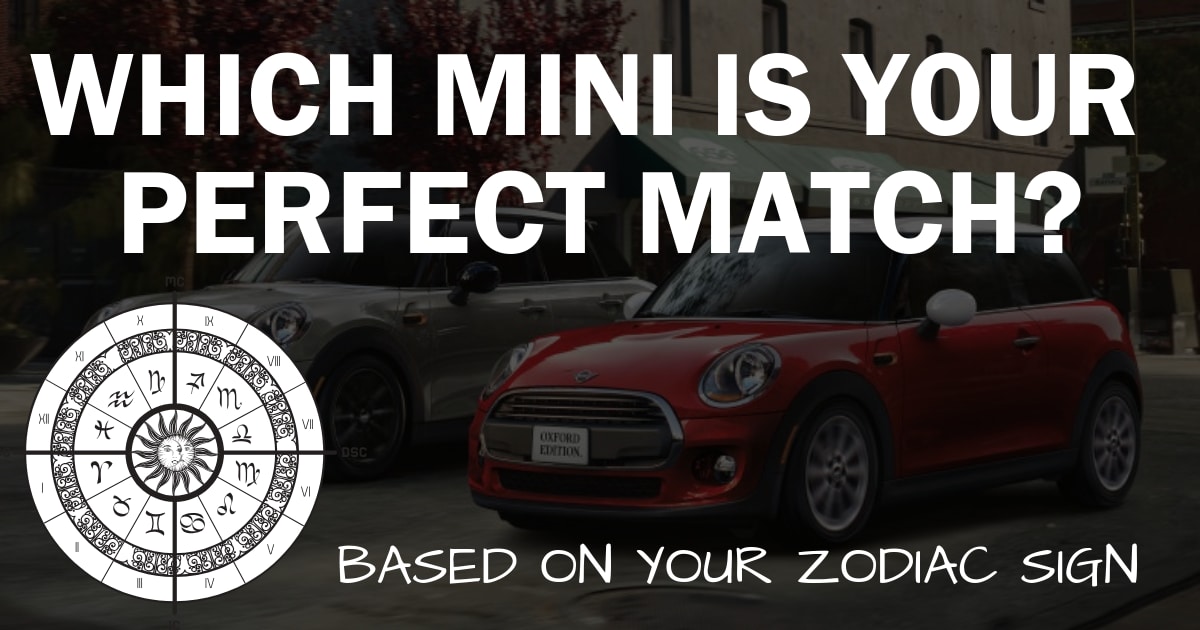 Our zodiac sign says a lot about who we are—our personality, our taste, our compatibility. The same applies to our choice in MINIs! Which MINI suits YOU?
Aries (March 21st to April 19th): Being the first of the zodiac signs, Aries are the "go-getter" types, often leading the way. They tend to be BOLD and love SPEED. If you're an Aries, you'd love the MINI Hardtop 2-Door: The original MINI that started it all (with a few new tricks up its sleeve, like a turbo engine and 3 adjustable driving modes)!
Taurus (April 20th to May 21st): The great strengths of a Taurus is in their stability, loyalty and determination. If you're a Taurus, you'll love the comfort and accessibility of the MINI Hardtop 4 Door. With double doors, a little more elbow, leg room AND cargo room—this is the MINI for YOU!
Gemini (May 22nd to June 21st): A Gemini is quick to adapt to the moods of those around them and the environments that they are in. What better car for a Gemini than a MINI Convertible?! Snowing or raining? Top up. Sunny day? Drop the top!
Cancer (June 22nd to July 22nd): Cancer is ALL about setting up a cozy and safe space wherever it goes, with a big emphasis on FAMILY. Hence loving a MINI like Countryman— the biggest MINI yet! With the availability of dynamic ALL4 all-wheel, you'll have piece of mind with family members in tow.
Leo (July 23rd to August 22nd): Leos will never settle for second best. They LOVE to turn heads. A MINI that's difficult to resist? A John Cooper Works. Every JCW model is an absolute force. As MINI USA would say, "if you dare to floor it, be warned: the first thing hitting the floor will be your jaw."
Virgo (August 23rd to September 22nd): The Virgo is very easy-going and practical, so they'll love a car that get great gas mileage, one without the hassle of plugging in to charge. The MINI Hardtops get, on average, 30/42mpg. Keep on adventuring in the 2 or 4 Door with less gas station stops!
Libra (September 23rd to October 22nd): Libras HATE being alone. They're all about partnerships and group-settings because they are happiest when others are around. They also know to NEVER show up to a gathering or party empty handed… The MINI with the most accessible boot: The MINI Clubman. With split rear doors, you always can delivery a fun time!
Scorpio (October 23rd to November 22nd): Scorpio is the most mysterious sign of all! Secretive by nature, someone of this zodiac sign is a fierce trendsetter. You'll often find a Scorpio in a car like no other, a MINI Special Edition! The Starlight Edition, the International Orange Edition, and the Oxford Edition will catch the eye of a Scorpio.
Sagittarius (November 23rd to December 21st): Sagittarius is one of the biggest travelers among all the zodiac signs. With an open mind that motivates them to wander around the world, a Sagittarius would be happy behind the wheel of ANY MINI! Why? Because a MINI is the greatest car for EVERY adventure.
Capricorn (December 22nd to January 20th): While seeming serious on the surface, the Capricorn's mind is always running on overdrive. Need to recharge? Opt for a MINI Plug-In Hybrid. While charging is optional, electrifying performance is NOT!
Aquarius (January 21st to February 18th): If you're an Aquarius, you're adventurous and enjoy your independence. Why look for a car with more than 2 doors when you enjoy long, solo car rides? The MINI Hardtop 2 Door is the car for YOU.
Pisces (February 19th to March 20th): If you're a Pisces, you'll know you like new and exciting opportunities! To combat your boredom and things going stale, opt for a MINI Convertible! It's like 2 cars in 1! Feeling bubbly and out-going? Head out on a drop-top ride. A more intimate car ride? Keep the top up.
Which Keeler MINI is the perfect match for you? Stop in today for a test drive at 1111 Troy-Schenectady Road in Latham NY! We have the perfect MINI for every zodiac sign.