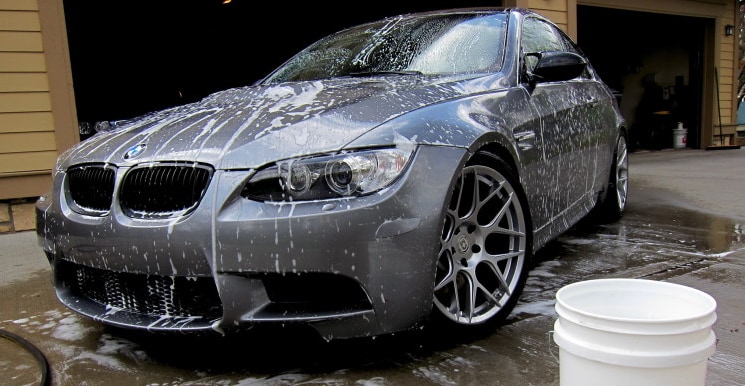 It's almost that time of the year-- cold, snowy and slushy roads. Now is the time to get your BMW ready. Did you know that road salt, snow, and moisture can cause rust on your BMW? It's extremely important to wash your car frequently throughout the cold Winter season. Rust can show up anywhere on your car, under the paint, the under car where there is bare metal, and in the nooks and crannies of your BMW. Once rust shows up, it's very hard to stop. This rust can eat away at the car body, rot out the exhaust system, brake lines, brake calipers, and gas lines.
So, why should you invest time and energy into getting your BMW ready for Winter when you can't stop the buildup of salt and muck? Economics. Take care of your BMW now so that it will last longer and hold its trade-in value. Read these 10 tips on how to protect your BMW during the colder months:
1. Add a coat of wax to have an extra layer of protection between your BMW and road junk.
2. Pay attention to the areas behind the wheels, the quarter panels and the front grille, as these are the main places where road salt collects and rust starts.
3. If you wash your BMW at home, use a five-gallon bucket filled with warm water and soap specifically made for cars, not dishwashing soap.
4. Warm water will melt away road grime.
5. Do not use dishwashing soap to clean your BMW, it will strip off the wax that you previously put on.
6. The powerful spray from drive-in car washes allows you to wash underneath, cleaning those big chunks of salt and slush.
7. Use a power washer and spray into as many nooks and crannies as you can find, salt and road crud hides everywhere.
8. Avoid washing your BMW when the temperature is below freezing, the water will immediately freeze and you will turn your BMW into a popsicle.
9. Invest in rubber mats for the inside of your BMW to avoid bringing in any salt, snow, sand, and moisture.
10. Drain the windshield wiper fluid and replace it with a de-icing fluid, which can withstand temperatures of -25 degrees below zero.
We hope you take advantage of these tips and begin preparing your BMW for the Winter season. Stop by the Keeler BMW Service Center at 1111 Troy-Schenectady Road, we will take care of all your vehicle needs and provide you with top-quality service!