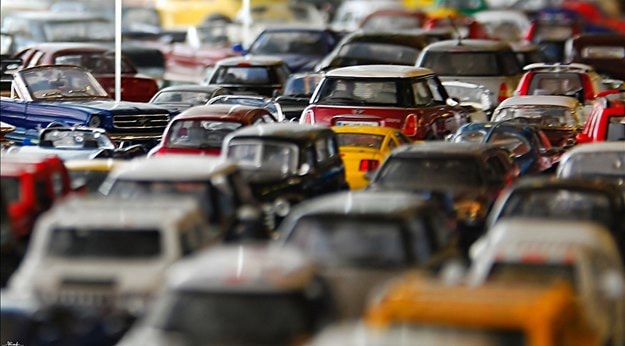 It's a beautiful Fall Friday afternoon. You've just managed to sneak out of work early (and by early, we mean 4:15pm) and you're excited to head home after a long week at the office! You hop in your MINI and head for I-87. You put your sunglasses on, open the sunroof and call your spouse and see what the "big plans" are for the evening. The light turns green to turn onto the highway and all of a sudden, you catch a glimpse of the 3 lane highway. It's too late to change your route, you've just pulled into DEAD STOP TRAFFIC. Immediately your mood changes from excitement to ANGER. Is there an accident up ahead? Did everyone sneak out of work 45 minutes early today? Is it Friday the 13th? Do I just have horrible luck?
Regardless what got you into this backed-up jam, here are some ways to pass the time in your MINI Cooper:
· Get a suntan: Just because it's Fall and 60 degrees doesn't mean you can't soak up the sun! Roll down your windows and catch a does of Vitamin D.
· Sing the traffic jam blues: Sure, listening to the news and discovering when you'll get out of this mess is important, but so is signing the blues. Crank up the volume and show that car next to you why you should be on The Voice next season!
· Flirt with your neighbor: Hey, it's cheaper than online dating! Strike up a conversation with your traffic jam neighbor to pass the time.
· Learn a new language: Podcasts and audio books are a great way to learn a new language. If you listen to Daily French Pod, you'll learn how to tell your traffic jam neighbor she/he is cute! Tu es mignon!
· Floss your teeth: Your dentist will give you a gold star at your next cleaning!
· Call your mom: With your MINI's Voice Control system, you can "CALL MOM" without having to reach for your iPhone or Android. Your mom will be so proud of your smart driving decisions!
We hope our tips will help turn your Friday afternoon/evening around! Plus, getting stuck behind the wheel of a MINI Cooper is NEVER a bad thing. Let our Keeler MINI team help you pick out the MINI of your day dreams and help you pair your device to your ride so you can reach Mom during your next inevitable traffic jam. Visit us at 1111 Troy-Schenectady Road, Latham, NY where we'll have you saying "My Dealer is Keeler!"