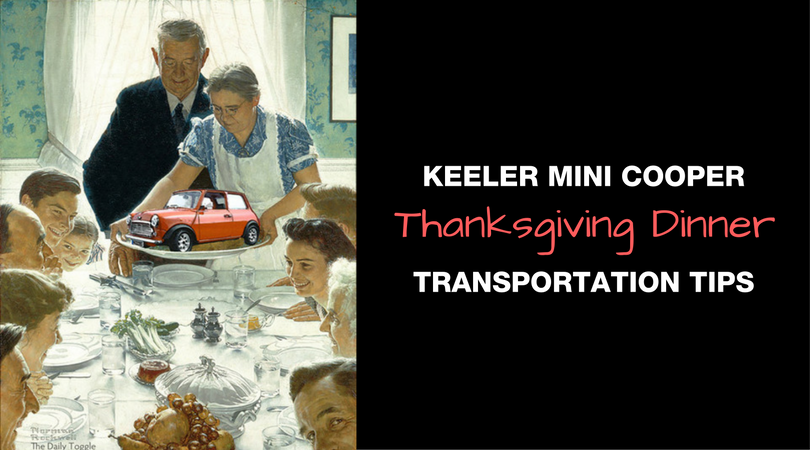 We could not be more excited for the upcoming 2017 holidays! What are your plans for Thanksgiving: Staying home? Visiting friends or family? Traveling in your MINI Cooper with your turkey? If so, follow these MINI tips on how to securely transport your holiday feast from your kitchen to the host's table:

Tip 1: Plan on roasting your turkey at home prior to your departure.DO NOT start cooking the turkey at home and finish it at your destination! We want to be sleepy after our Thanksgiving meal, not ill!

Once the turkey is done cooking, let it rest for 20 minutes as it cools. Remove the stuffing and then completely carve the turkey. When you arrive to your destination, place turkey and stuffing back into the oven at 325 degrees F to reheat.

Tip 2: Split up side dishes into small containers or tightly sealed packages and refrigerate SEPARATELY until you depart from your home. When it is time to leave, pack your small containers of Thanksgiving side dishes in an insulated cooler filled with ice or frozen gel packs. Place your insulated cooler filled with food items on the floor of your MINI or in the boot to prevent tipping or spillage (OR add a car detailing gift certificate to your holiday wish list this year).

Tip 3: If you're driving to a relative or friends house that is more than 2 hours away, let go of the reins! Turkey dinner is no longer in your control!

A raw or cooked turkey will keep un-refrigerated for transporting no longer than two hours. If you fall into this category, offer to bring dessert! Pie not?
Following these MINI tips is essential to preserving your Thanksgiving food the best way possible from point A to point B. Stop by our dealership at 1111 Troy-Schenectady Road in Latham, NY to get yourself the best holiday-food-transporting vehicle on the market! You and your dinner guests will be thrilled you did! Happy feasting, Capital Region.