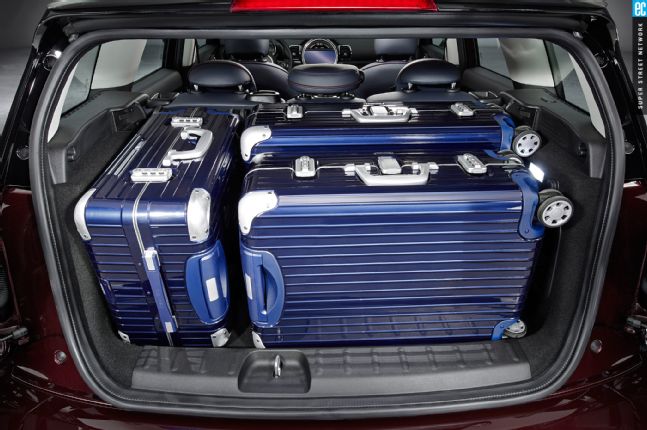 Dashing through the snow this Holiday season? There's nothing quite like loading up the family into the MINI, putting on some Christmas music and heading to Grandmother's house. While the initial excitement tends to wear off after a few hours into the drive, when you look back on these trips, the memories out-weigh the long miles.
For the sake of your mental and physical safety, here's how to prepare for your upcoming Christmas road trip:
· Prepare the MINI: Give your car a total clean-out before loading up all your luggage and family members. Toss old coffee cups, receipts that have fallen between the driver's seat and center console, and any trash the kids may have dropped on the floor in the back. Clean out any clothing, shoes, reusable bags, and recent purchases that have accumulated in your back seat or boot. Start your road trip with a fresh ride!
· Create the perfect playlist: Great music truly helps pass the time. If the whole family is traveling this holiday, ask everyone to put together a list of their favorites to be included in a family road trip playlist. Anthony's favorite Christmas songs are Carol of the Bells from the Trans-Siberian Orchestra and White Christmas by The Drifters. Make sure these two Christmas tunes make the list!
· Make a schedule: Sharing is caring! Work out a driving scheduling that includes multiple stops to rest and refresh and to swap drivers. Are there any cities along the way you want to stop and explore for 30-60 minutes? Do your homework and plan accordingly so you arrive to your final destination on time.
· Restock the emergency kit: Although you never hope to find yourself on the side of the road, it's better to be prepared than sorry. Make sure your emergency kit has first-aid essentials, tools like a screwdriver, duct tape, and zip ties, lots of water, and some non-perishable food items. Especially this time of the year, be sure you've got a few blankets on board, too!
· Schedule a service appointment: If you'll be heading out on the snowy roads with your loved ones this Christmas season, it's super important to know your MINI is in tip-top shape. Give us a call, let us know you'll be heading out on a road tip, and we'll get you in for a check-up. Contact our service department today: 518-205-8567
There's no place like home for the holidays, but if you are traveling, these tips will ensure a safe Christmas commute! Happy Holidays from everyone here at Keeler MINI. Drive safe!